CES College, accredited by WASC ACS and COE, offers a dual certificate program - 
Massage Therapy and Physical Therapy Aide
Massage Therapy is considered one of
"The 10 fastest growing jobs in the USA" by USA Today
With massage therapy becoming mainstream as well as the aging Baby Boomer generation, employment of massage therapists is expected to grow by 23 percent from 2012 to 2022, much faster than the average for all occupations (BLS Occupational Outlook Handbook).
Prepare for a rewarding career as a professional massage therapist.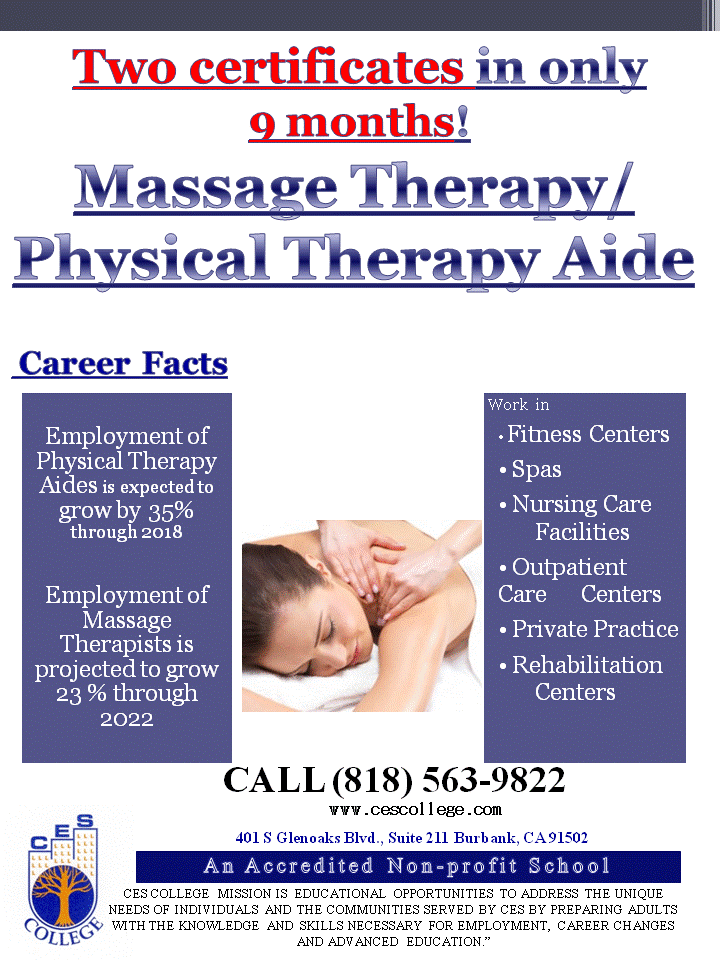 My peers in class and staff at the campus feel like second family to me, and for that I'm thankful. At CES you're not just another statistic - people know your name and root for your success.
The staff is great, they listen to students when students have concerns. The instructors are very knowledgeable and encourage questions and one on one interactions with them.
My class and staff were like family and I honestly contribute my success to that small class style where each person is seen as an individual and help is always offered.
It's a great place to learn & get experience.
Why choose the Massage Therapy/Physical Therapy Aide program at CES College
CMATC Accredited
Train for two career tracks in just 8 months
Prepare for California State Certification
Non-profit School, Affordable Tuition
Great Job Outlook
Various Career Options - work full or part-time in a variety of exciting professional settings
Open Your Own Business
Sport events and Athletic Teams
Health Clubs
Fitness Centers
Spas
Rehabilitation Centers
Massage Clinics
Hospitals
Medical Offices
Chiropractic
Physical Therapy