Vocational English as a Second Language (VESL-725)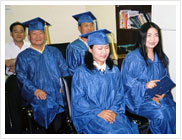 CES College has created a specialized VESL program that assists immigrants and refugees find meaningful employment in the U.S. labor market by providing them with sufficient training in ESL so that they are able to utilize their education and technical skills, which they bring from their native countries.
VESL-725 curriculum gives students the language they need to identify transferable job skills, their strengths and weaknesses and possible job goals as well as to become better communicators in a work setting.
Curriculum includes lessons in English grammar, reading, writing, listening and speaking as well as American business culture and employability. The course is 47.5/24 semester credit hours (725 clock hours).
Schedule
Total 24 hours a week (31 weeks of instruction).
Computer lab is available for all students. The lab offers an opportunity to practice your language skills online and with CDs.
School Performance Fact Sheet, VESL Program