What Our VN Students and Graduates Say
"CES College was nothing short of an incredible experience that changed my life. I had no medical field experience when I came here and now I have a budding career." Cade P.
"My class and our instructors were the support and the inspiration I personally needed to change my outlook on life…" Patrick B.
"Because of CES I was able to get my first job right after graduating because my school and instructors had a great reputation in the Hospitals." Amber B.
"After graduating I feel much more prepared for most clinical situations than I thought I would because of these excellent training opportunities. The friends I've made there and the guidance from the instructors were easily the best part.  This is an investment into our futures and the commitment to our education is backed up by CES and their quality education and great staff." Joe M.
"The staff is wonderful; everyone is there to help you, without any tricks or gimmicks.I passed my NCLEX on the first try." Alan K.
"CES is an amazing LVN school. I enjoyed it from day 1 to graduation." Elizabeth R.

"When I first walked into CES college, I felt this warm feeling inside, literally like I was at home.  The staff was very friendly and attentive.  I immediately went home and told my husband that I found the school that I wanted to go to."  Deanna M.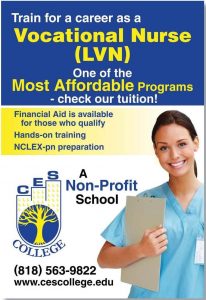 Highlights of CES COLLEGE Vocational Nursing program:
Affordable Tuition
NCLEX preparation
No Prerequisites
Experienced Instructors
No payments while in school if qualify for full financial aid
Hands-on experience
Job Placement assistance
PROGRAM LENGTH
The program has four (4) modules of 15 weeks each.
Total Curriculum Clock Hours: 1560 hours.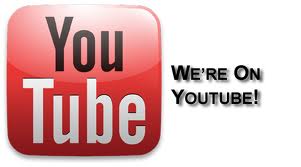 The clinical assignments of the program provide students with actual hands-on experience in providing nursing care to clients of various ages, ethnic and cultural groups, and stages of wellness/illness.
Upon successful completion of the program, the students will be eligible to sit for the NCLEX-pn examination. Upon passing the exam, the student will be eligible for employment as a Licensed Vocational Nurse.
The day class meets five times a week:
Evening/Weekends: Monday/
Wednesday
 or 
Tuesday
/
Thursday
, 
5:30 PM-10:30 PM
, 
Saturday
/
Sunday
, 
7 AM- 3:30 PM
Day: 
Tuesday
, 
Wednesday
, 
8:30 AM- 2PM
, 
Thursday
, 
Friday
 – 
7 AM- 3:30 PM
Please visit CES College to learn more about the school and to meet our instructors, students, and staff.
Call: 818-563-9822
Visit our campus: 401 South Glenoaks Blvd., Suite 211, Burbank, CA 91502
School Performance Fact Sheet, Vocational Nursing Program

Gainful Employment Disclosure